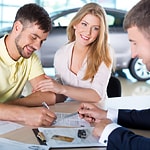 Whether you want to refinance your vehicle or trade it in, our team at Sunrise Chevrolet in Omak, WA is always ready to help. Consider contacting us if you are ready to make a change in your vehicle financing.
A vehicle refinance is usually done when there is a high interest rate on the original loan, making the monthly payments high. It may be convenient for some to finance a vehicle at a high-interest rate and then, around a year later, refinance for lower monthly payments. Doing this may raise your loan term but will help you stay on a good budget.
A vehicle trade-in is when you'd like to purchase a new vehicle and use the current vehicle that you have now toward the new car in a monetary way. You will get a trade-in value for your current vehicle, and then you can decide whether you want to use it for a new vehicle or not.