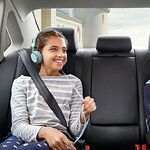 The open road continues to beckon millions of drivers annually. Here at Omak, WA Sunrise Chevrolet, our team members take annual road trips with family. Over the years, we've learned a few tips for making road trips as safe as possible.
Anticipate Weather
When preparing your GPS, maps, and navigation software, be sure to confirm the weather in neighboring states. Track moving storms that may cross your path or pursue you. Map out your main route and alternative routes before embarking.
Get Some Shut-Eye
Easily the most important tip: get quality sleep the night before your road trip begins. Driving tired is similar to driving drunk, and your reflexes only get worse as your sleepless day or night continues. Eat a big breakfast on road trip morning, and pack plenty of nonperishable snacks and bottled water for the trip.
Pack a Full Gas Can
Although the open road offers plenty of rest stops and places to refuel, it's always better to be safe. Fill a gas can and pack it in your trunk for added security. This way, you can always refuel your car anywhere, anytime, if the need arises.