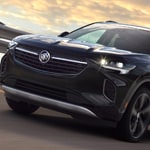 Have you seen the latest Buick Envision Avenir? This SUV is one of the most comfortable on the road with a roomy, connected cabin that comes with all the latest technology. In addition, the Envision Avenir has leather seats, wood accents, and heated seating. You'll love how comfortable it is to drive, but your passengers might not want to get out of this dream cabin.
In the front seat, the center console is set off by a large, 10.2-inch touch screen color display that connects to Buick's updated infotainment system. The latest version lets you connect all of your devices and hooks into the driver assistance system, which includes blind spot monitoring, lane keep assist, and rearview parking guides.
There are a ton of upgrades for the Envision Avenir as well, especially if you're looking for more comfort such as a massaging driver's seat or a premium 9-speaker audio system. All of this is available and ready for you to test drive at Sunrise Chevrolet.