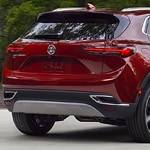 The all-new Buick Envision Avenir has arrived, and it is packed with the most advanced safety features ever seen in a Buick vehicle. With its sleek design and luxurious interior, the Envision Avenir is sure to impress. But what really sets this car apart from the competition is its impressive list of safety features. Here are just a few of the highlights:
- A rear-view camera that gives you a clear view of what is behind you, even when backing out of a tight space.

- Front and rear parking sensors that help you avoid obstacles when maneuvering in and out of parking spots.

- Blind spot monitoring that uses sensors to detect vehicles in your blind spot and alerts you with a visual warning on the side mirror.

- Lane keep assist that uses cameras to detect lane markings and helps keep you centered in your lane.

- Adaptive cruise control that automatically adjusts your speed to maintain a safe following distance from the vehicle ahead of you.