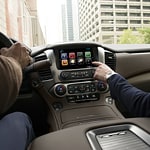 The Chevrolet Suburban excels in the category of ride comfort, combining a torquey engine with buttery transmission and rear- or all-wheel drive. This textbook group SUV is also one of the safest large rides on the road. Don't take our Omak, WA Sunrise Chevrolet team's word for it. Take a look at the Chevy Suburban's safety features for yourself.
The Lane Departure Warning
No one intends to drift across lanes unintentionally. That's why the Chevy Suburban's Lane Departure Warning is so important. When unintentional lane drifting occurs, the Chevy Suburban delivers slight turns of the steering wheel as an alert. If slight steering wheel turns fail to alert you, the Chevy Suburban issues a Lane Departure Warning.
Front Pedestrian Braking
Working at speeds below 50 mpg during the daytime, the Chevy Suburban scans the road ahead of you, detecting pedestrians that enter your trajectory and issuing alerts. If road conditions prove faster than your reflexes, the Chevy Suburban deploys hard automatic emergency braking or enhances your manual hard braking.